Follow Friday is a really fun way to make new blogger friends and promote your blog in the process! This weekly meme is hosted by
Alison Can Read
and
Parajunkee
.
Who is your to-die-for book crush? What do you think they look like?
Ahahahahahahahahaha! Oh lordy, if you've read some of my other posts, then you know that apple of my eye, love of my heart, fire of my loins, etc etc. is none other than Will Herondale from Cassandra Clare's The Infernal Devices series!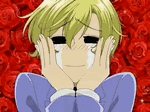 I don't remember exact quotes, but Will is a black-haired, blue-eyed BAMF and he is witty as heck. Also, he loves books. Like, really really loves books.
He's snarky and hilarious and at times, somewhat inappropriate, but underneath the bad boy exterior is a beautifully complex character that you will love so much it hurts.
I've always had a hard time picturing book boys as real people, and Tessa did say that Will looked "like every fictional character she had conjured up in her head" which makes him even harder to cast! However, I did see an old picture of Alex Pettyfer from a while ago where the photo was edited so that he had black hair and By The Angel, I could definitely see him as Will.
So are you swooning yet? :)